All-aluminum construction

Holds camera during any physical activity while providing instant access for picture-taking

Attaches to any strap or belt up to 3 Inch (7.6 cm) wide and 0.5 inches (1.3 cm) thick

Works with DSLR, compact and point-and-shoot cameras

Includes PROplate quick-release plate, which fits in most ARCA-type and Manfrotto RC2 tripod heads

Allows for fast & easy lens changes
---


Peak Design CapturePRO Camera Clip Review
If you have a DSLR that is a full-frame, or a mirrorless compact camera or a sweet point and shoot, the Peak Design CapturePRO Camera Clip will help you secure your camera to you! Read on and lets dive into this review.
Check this item out on Amazon – Click here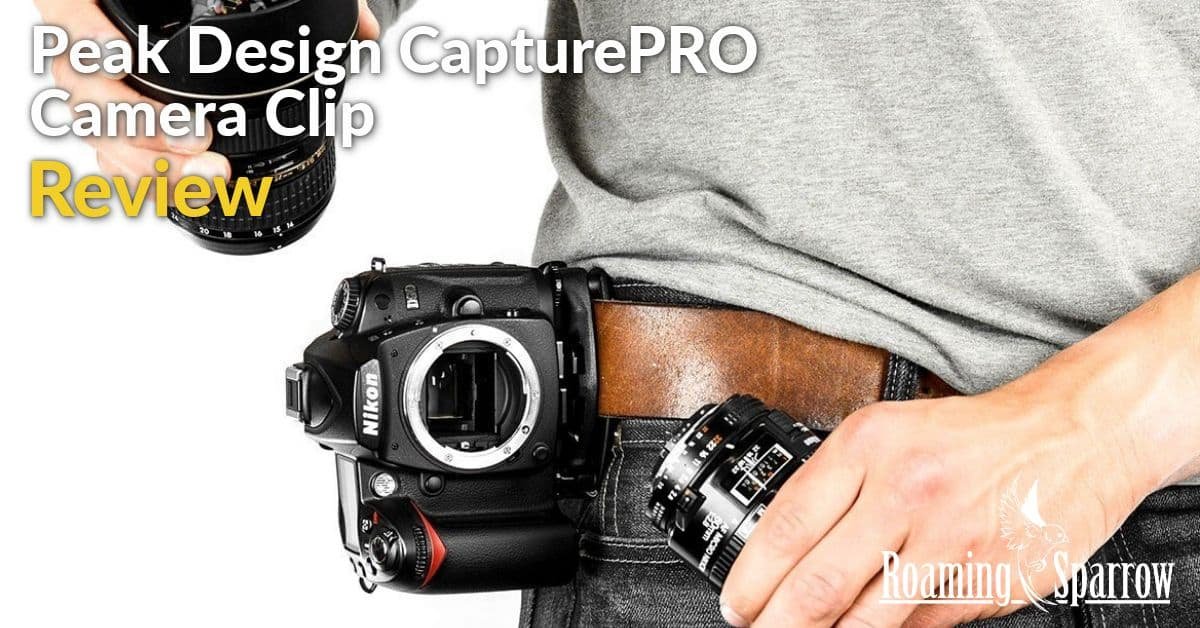 Although people carry smartphones equipped with top-end cameras, many still carry their DSLRs or compact size POS cameras with them to capture important moments. These cameras, lenses and other accessories are quite vital to click impressive photographs. However, carrying all those things together can be a daunting task. That's why Peak Design CapturePRO Camera Clip is designed.
The CapturePRO camera clip is good enough to hold a full-frame DSLR, mirrorless cameras, POS cameras, and Corp sensor DSLRs securely. You just need to attach that clip to your belt or your bag's strap and then attach your camera. It will never let your camera fall on the ground and both of your hands will be free.
CapturePRO Camera Clip build quality:
The designers at Peak Design have ensured this clip remains lightweight but also quite durable to avoid a mishap. That's why it is made of aluminum which is lightweight and strong. Its awesome build quality will ensure your camera and other gears won't fall when you are walking in the woods or hiking on the mountain. Many pros have bought it and they have tested this clip rigorously to check how it holds cameras and photography gears when hiking, tracking, riding vehicles, or simply walking. They agree it is a reliable clip to hold all those kinds of stuff.
Easy installation:
It is super easy to install the Peak Design CapturePRO camera clip. You get a complete package of tools that you may need to install this clip on your belt or bag strap. It takes just a few minutes but you have to follow each instruction carefully. Learn how and where to install the mounting plate to secure the clip. Some users, unfortunately, did not follow the instructions and their gears felt from the clip. They thought it was clip's fault but their clips were not properly installed.
It helps to keep your hands free but your camera at the ready!
Protects your cameras and other gears:
You would like to visit new places as a professional photographer to capture more scenic views across the globe. Your quest for a perfect picture might also take you to the most deserted and hard-to-reach places across the globe. Sometimes it won't be easy to hold that bulky camera in your hands all the time. That's when you will need the Peak Design CapturePRO Camera Clip. It will make carrying and changing camera lenses quite easier. Its quick-release plate will safeguard your camera and prevent it from falling down.
Features:
Made of aluminum for better durability.
Any strap or belt which is 3" wide can be used to install CapturePRO clip for holding camera.
Perfect for carrying Compact, Digital SLR, and Point-and-shoot cameras.
Perfect if you want to change your camera lenses on the go without damaging your camera.
Sparrow thoughts:
Peak Design is offering a lifetime limited warranty on this clip. You need it if you do not want to break your favorite camera. Keep it attached to the CapturePRO clip, use it whenever you find a great view of the subject, and then hang it again. Change camera lenses whenever you want without worrying about dropping the camera because this clip will tightly hold your expensive device.
Check this item out on Amazon – Click here