Peak Design Leash Camera Strap (Ash) Unbiased Review
This camera strap is perhaps the worlds most versatile and quick connecting, leash for your DSLR. It has a surprising amount of functionality and can adapt quickly to your needs, and most of all, it's as portable as they come!
Check this item out on Amazon – Click here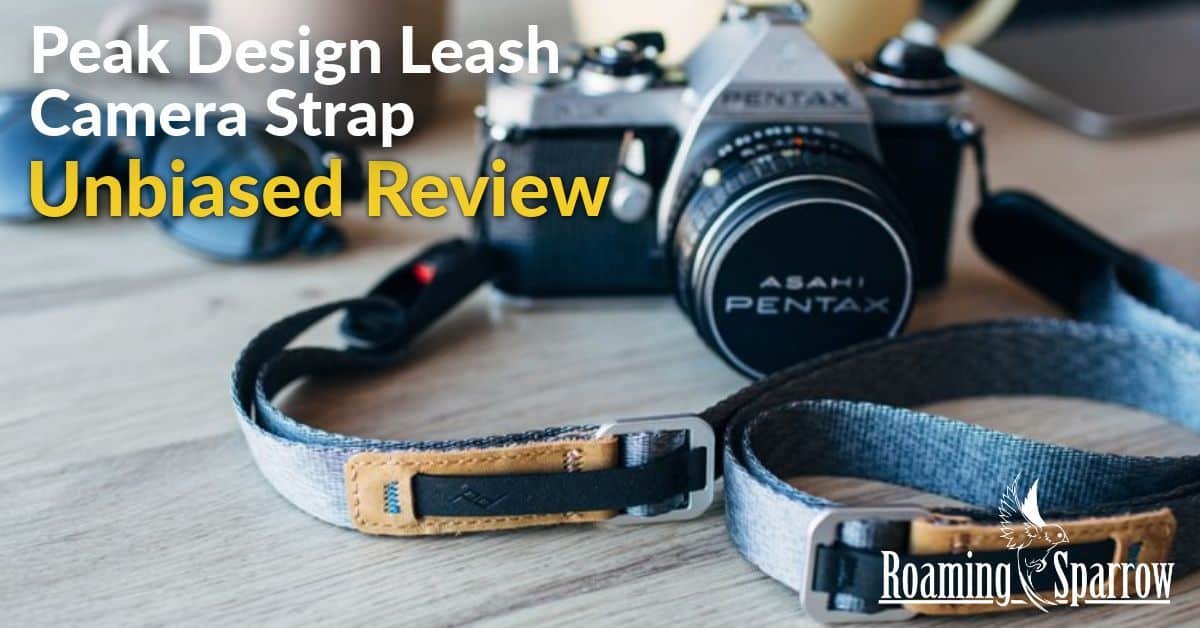 Every photographer wants to ensure his camera is well-protected when going out on a journey to click some amazing pictures. It is impossible to keep the camera in hands all the time, especially when you are moving through rugged terrain. You need a high-quality strap to hold the camera securely when your hands are not holding it. The Peak Design Leash Camera Strap seems quite durable and feature-rich.
Should you consider buying this camera strap or go for some other options? Let's reveal the answer:
What's so special about the Peak Design Leash Camera strap?
You may already have a camera strap which you always use to carry that camera. What if that strap breaks and your camera gets damaged? You won't be able to click more pictures if the camera is damaged or the lens is broken.
It is not any hypothetical scenario because such things happen to people all the time. You should be well-prepared to avoid such situations. That's why you need a more durable and reliable strap than an ordinary strap that comes with most of the cameras.
Better design and build quality:
Peak Design seems thoroughly focused on how stronger its products are. This leash camera strap was introduced earlier in black color. A more improved version is available in ash color at the top. This time the manufacturer has equipped machine anodized aluminum hardware to this strap. The strap itself is built of durable seatbelt-type nylon.
Peak Design has worked on anchor links to redesign them thoroughly. They have reduced the cord portion to help the user in threading it quickly through narrow eyelets. They did not compromise with its strength because it can still haul a device weighing up to 200 lbs. The new strap has aluminum anchor mount, second length adjuster, and the latest aluminum adjustment mechanism for better durability. You won't worry about your device safety once you apply this strap.
Key specs to consider about the Peak Design Leash Camera Strap:
The following specs prove Peak Design Leash Camera Strap is worth considering.
Quite user-friendly:
The Leash Camera Strap from Peak Design is easily adjustable. It features a low-profile dual aluminum/Hypalon quick-adjustment system to adjust the length of the strap according to your demands. It can attach and detach very quickly and allows you to use your camera quite freely. Yes, it is strong enough to haul your rangefinders, binoculars, and also your toddlers if you want. You can even carry your tripod on it.
Also works as a stabilizer:
Suppose your hands are shaking and you want more stabilized pictures on the video, use this strap to record panning videos whenever you want.
You can keep it in your pocket:
Whenever you are not using the leash, you can detach it and carry it in your pocket. It won't cover too much space because it is slip and lightweight.
It is super strong:
You can trust this strap to hold any camera, accessory, lens, or other camera gear. It will never let your camera and accessories fall.
Sparrow thoughts:
The Peak Design Leash Camera Strap is pretty strong, attractive, and user-friendly. Buyers seem happy with the durability and performance of this strap. That's why you must consider using it.
Check this item out on Amazon – Click here