Description
Lowepro ProTactic 450 AW II
Having your entire gear- cameras, lenses, tripod, etc. within easy reach is absolutely essential to capture breath-taking pictures. However, assembling all your stuff into one unit that is comfortable to carry around can be a challenging task. If you are on a quest to find the perfect backpack for your gear, you might have stumbled on the right page.Check the latest price on Amazon here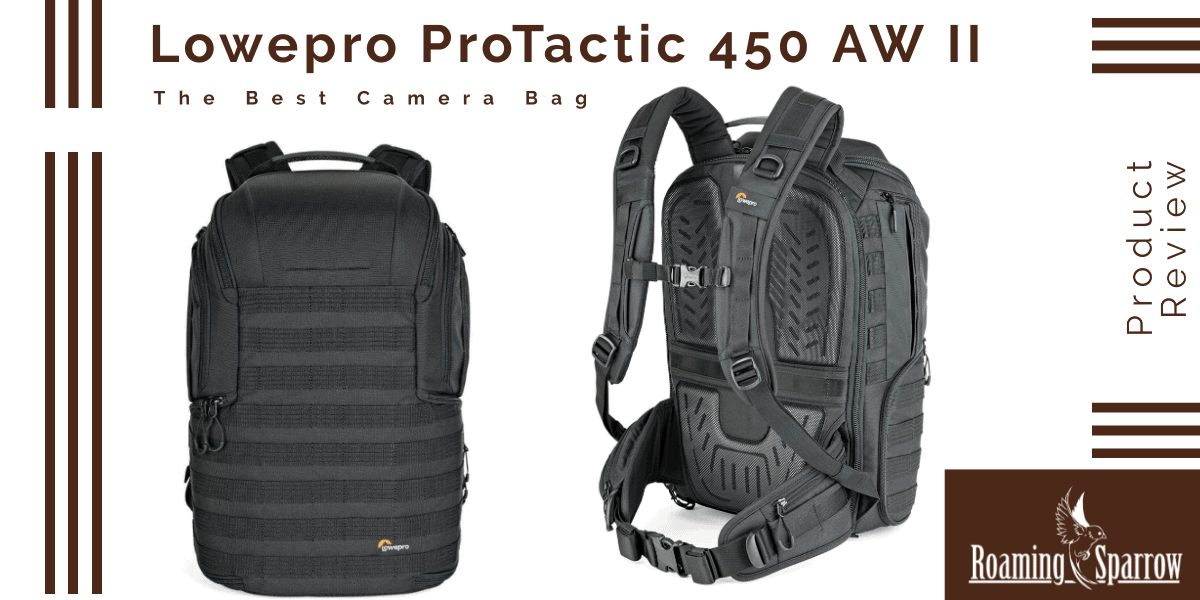 One of the best professional camera bags out there in the market, Lowepro's ProTactic 450 AW II is an efficient backpack designed for comfort and high performance. With a spacious and highly organized interior, this backpack is a product that does its job with elegance.
Read on to find out its unique features.
Features
The backpack features a rigid top with thick padding around the bag that ensures full protection for your gear from fall and external bumps. It has excellent flexible and adaptive dividers that allow you to fit in various camera and lens configurations. The bag includes a tripod cup, water bottle holder, utility pouch, and two quick straps. ActiveZone back panel distributes the gear's weight across your shoulders, lumbar region, and waist to ensure optimum comfort all-day.
Multiple access points provide easy reach and productivity. The built-in weather protection exterior safeguards your equipment from rain, sunlight, and dust.
Pros of the Lowepro ProTactic 450 AW II
This is perhaps one of the best camera bag inventions ever with lots and lots of pros and few or no cons depending on your needs. Why should you get this bag?
It is superbly stylish and gives you a professional look without compromising on the quality.
You can fit in all the gear you need and carry it around all day. The heavy equipment's weight is evenly distributed over your upper body so you will not get too tired.
The bag has ample storage, including a tripod cup and water bottle holder. You can carry all your essentials in one bag.
Easy access to your gear makes it perfect for on-the-go shooting such as street, nature, or travel photography.
A laptop sleeve that can accommodate up to 15-inch laptops makes it more convenient, especially if you have to work on your laptop as you travel.
It is lightweight, and the material is sturdy.
Cons of the Lowepro ProTactic 450 AW II
There is no prominent flaw that would discourage you from buying this product. The ProTactic bag has excellent reviews from many satisfied buyers. However, priced at 209 dollars, it may be quite expensive for some. Another minor issue is that the bottom is made of nylon material and not very sturdy. So, it may be a little difficult to stand upright.
Conclusion
Overall, you have a great option with this bag. The design is fantastic, and it serves its purpose well; it houses and protects your gear efficiently. The material is sturdy, and you have all-day easy access and comfort of carrying. If you are traveling out of town for a night or two, you can even throw in your clothes and bare essentials. If you are a minimalist, you will have just one luggage instead of two.Check the latest price on Amazon here