Description
ZOMAKE Ultra Lightweight Packable Backpack Review
Travel can be daunting because of long rides, flights, and the luggage you carry on each trip. Even though you try to keep it as light as possible, bags get packed with clothes, footwear, electronic gadgets, accessories and a variety of things. You cannot carry all these things with you when planning a day trip. Read on for our ZOMAKE Ultra Lightweight Packable Backpack Review. Check this item out on Amazon – Click here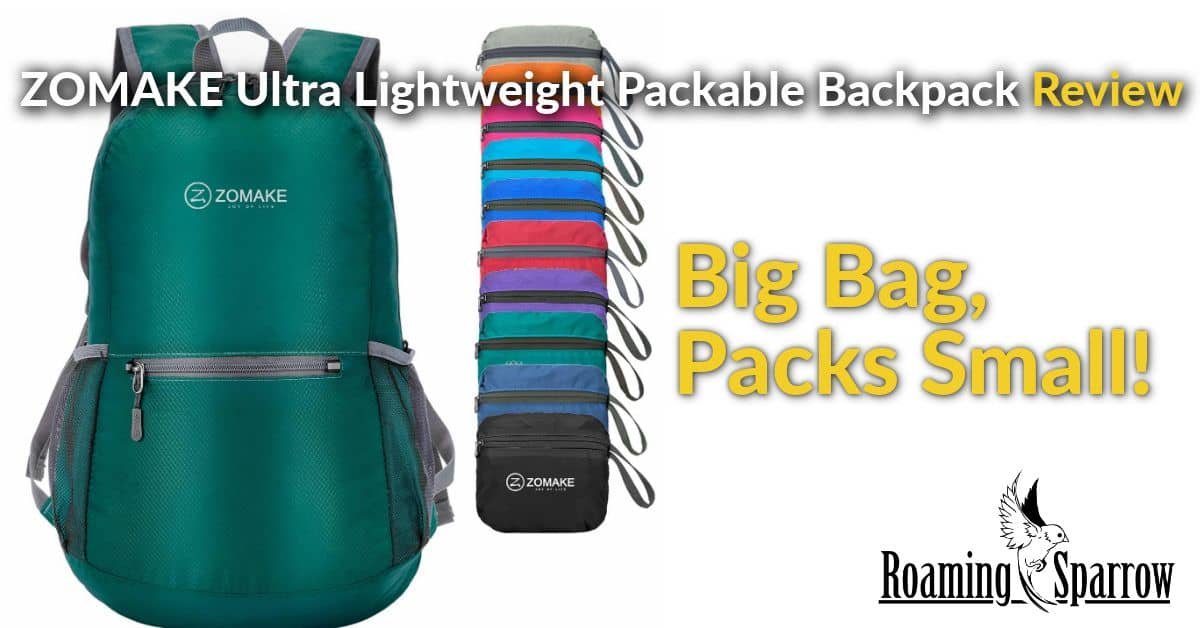 You need a hiking daypack to carry the most essential things with you. The ZOMAKE Ultra Lightweight Packable Backpack seems like a great choice for such small journeys. Continue reading to reveal what features make this daypack backpack a great choice for every traveler.
ZOMAKE Ultra Lightweight Packable Backpack key features:
A perfect backpack for short travel adventure:
Zomake has designed this daypack backpack to be an excellent choice as a day-trip, carry-on, and small backpack. Nobody likes to haul large and heavy bags on short journeys. That's why people seek small and lightweight backpacks for such trips. The Zomake Ultra Lightweight Packable backpack is quite lightweight and small, and you can also fold it to reduce its size. Thus, it gets even smaller and more convenient to carry with other luggage.
ZOMAKE Ultra Lightweight Packable Backpack Review : 20L storage space:
The main pocket offers 20L storage space. You can keep your laptop, lunchbox, documents, and various other things that you might need during the trip. It also has one front-zipper pocket for carrying small sized items such as charger, smartphone, wallet, etc. There are also two open mesh side pockets for carrying a water bottle and other frequently needed things. You can keep all the required items in a perfectly organized manner before starting your day trip in this daypack.
It is lightweight and convenient to carry:
This daypack weighs only 8.8 OZ. You get an ultra-compact pouch with this backpack. This pouch is used to pack and carry this backpack when you are not using it. It folds and gets even smaller like a Sandwich. You can keep that folded daypack in the pouch and then put that pouch in your trolley bag to reduce the number of luggage. You won't be carrying an extra bag on your trip and it will feel like a big relief.
Water-resistant and durable:
Zomake has used top-grade nylon material to ensure this daypack backpack is water-resistant. It is also equipped with SBS metal zipper which prevents water from entering inside your backpack. So, you can walk freely in the rain without worrying about water damage. It features breathable mesh shoulder straps. You can easily adjust the length of the shoulder strap and lock it firmly. This backpack is extremely durable and therefore it can last for many years.
Sparrow thoughts:
The Zomake Ultra Lightweight Packable Backpack is a versatile choice for every traveler, student, photographer, mountaineer, and hiker. It is extremely lightweight and offers ample support to distribute the weight of your belongings on both of your shoulders. You will never feel like carrying something heavy on your back. It costs a very affordable price and you get multiple color options to choose from. So, check it now.Check this item out on Amazon – Click here