Tam Thanh - The Hidden Mural Village of Vietnam
Tam Thanh – The Hidden Mural Village of Vietnam
Located about 56 km south of Hoi An is the quiet beachside town of Tam Thanh – The Hidden Mural Village of Vietnam. This town was not even on the map for tourists till, in 2016, artists from Koria and Vietnam collaborated to bring art to the wall of this city.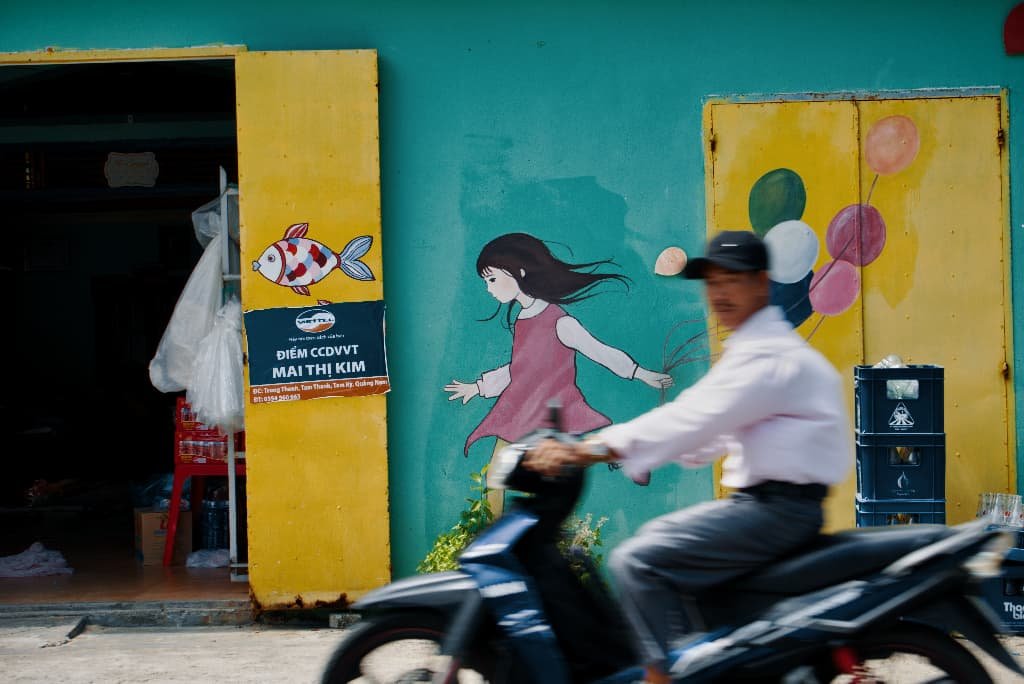 After this collaboration, tourists started to take note of this small city and make the 1 hr drive south from Hoi An to experience the art here. I was being Inspired by raw curiosity myself, and along with a desire to drive a motorbike, the other day, a friend and I set off for Tam Thanh.
The Drive from Hoi An to Tam Thanh
The vision in my mind was a lot of rice fields, small streets, and quaint roads. This vision was far from what the drive is. Directly south of Hoi An is a giant bridge, then a massive water park. After this explosion of new growth, you enter what I call the desolated wastelands.
Sparrow Tip: Make sure your gas is topped off before you leave from Hoi An; in the wastelands, you won't find much rest.
We drove down along the coastline. While we did drive past some small hamlets, the bulk of the ride was wase treatment plants for miles and then a sprawling cemetery. This cemetery was EPIC. Monuments to the parted scattered in what looks like haphazard orientations, all in white sands. It's on my list to go back and take some photos of the cemetery here. For this adventure, we were in a rush; as such, we drove on.
Read one of my previous artices here.

Entering Tam Thanh – The Hidden Mural Village of Vietnam
We were looking for a large mural or something to say YOU ARE HERE! But it was a soft entrance into the city. We even had to stop at one point to ask a local if we were on the right path.
But we did arrive. Just note that when you think you are almost at Tam Thanh but not sure, drive a bit more, and you will be there.
We stopped at a large mural and were impressed. It was what looked like a hotel but covered in jellyfish. Next to this were a bunch of the weaved round boats. They were painted to look like the sun, flowers, and more. These made for a tremendous initial impression of the city.

Traveling further into Tam Thanh – The Hidden Mural Village of Vietnam
Jut down the road from where we parted the Wave Alph bike, was the city center proper. Here was what looked like the central art installation. White frames highlighted the picturesque ocean waves, while the blue horizons reached off over the horizon.
We stopped for some photos here; I also ventured to the beach to capture a few pictures of the marvelous looking boats.
While I walked across the sands, I thought of winters snow. If you lived with snow, you know the sound it makes on a cold morning. It's a squeaking crushing sound. The sand was the same on this hot sand. It just squeaked when I walked on it. So very hot, even at 10 am.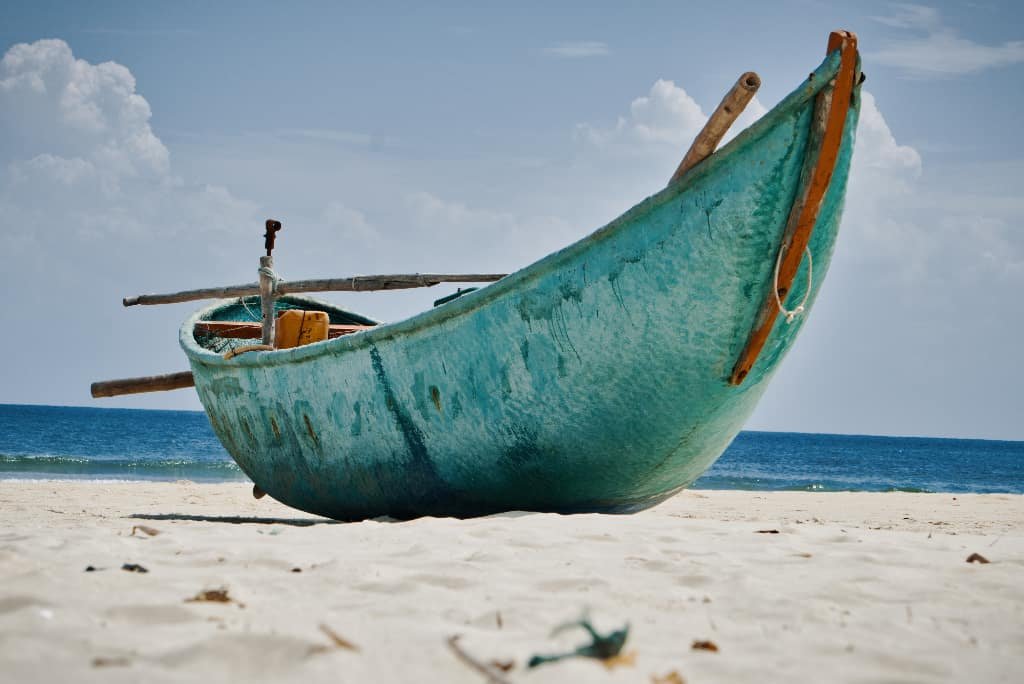 The rest of the city presented small moments of "Oh, this is nice." Murals were popping out from around a bend. Or from down an alleyway calling you to adventure to see them. We ended up taking many photos of this city. Then as suddenly as we realized we were in the town, we were at the end of it.
Turning around, we walked back through the city to our bike, and with a wave, bid farewell to Tam Thanh – The Hidden Mural Village of Vietnam.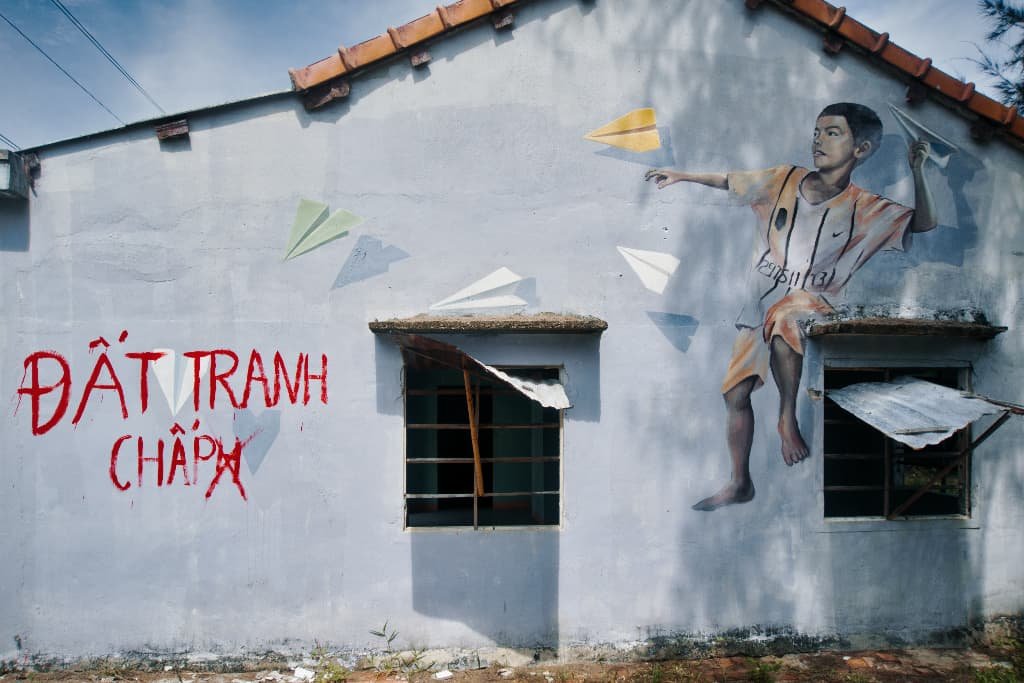 Thought about Tam Thanh – The Hidden Mural Village of Vietnam
It's a great idea. Art inspires people to see it. Art inspires people to experience moments with it. Tam Thanh is on a progressive track for sure. While the project completed in 2015, the paintings on some walls suffer.
A lot of the murals are well taken care of; others are not so much. Vandalation and time are taking its toll on the art. Construction is growing over some art, and others are getting obscured by growth. The change is life tho and adds to the history of the walls and the art.
I believe, to see this project fully bloom and be a more significant tourist draw, items like maps to find the murals, more significant signs indicating the city, and more art is needed. A lot more art! Like on every wall! Perhaps there are plans for this, maybe not.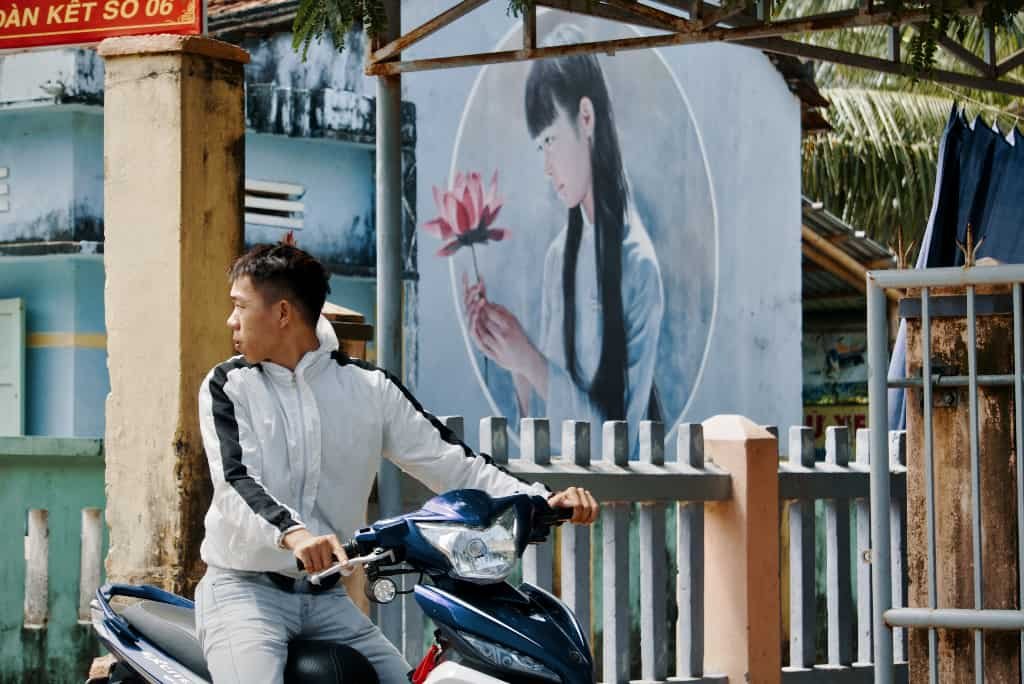 Is it worth the hour drive past an endless garden of white sands and cemeteries? I believe so, and I would recommend this adventure to those passing through Central Vietnam.
How to get to Tam Thanh from Hoi An
You have a few options for routes to a from Tam Thanh. Here is a link to Google Maps: https://goo.gl/maps/xfwzzy4dr1tGWZiA9
Here is the option we took down Tam Thanh, which was along the coast.
https://goo.gl/maps/LKNztJaxyp9nk2V4A
On the way back we went like this:
https://goo.gl/maps/HqHngGvwTrNQsZog6
The way back was much less exciting. I would have opted to do the same coastal route home to see some change in scenery. The way we took home was along a highway. No shade, just a hot road is speeding past underneath us. Around us, not much.
Google does list another way, a little further to the West; I am curious if this would be more through rice fields and provide a nicer rider. Perhaps the next adventure, we will try this route.
Random Notes about this outing.
Make sure you fill your gas tank before leaving.
Pack a small lunch to take with you.
Most shops serve drinks until later in the day. You may be hard-pressed to find a meal.
Sun Screen is important.
The beaches here look ASTOUNDING, Bring a suit and splash around a bit before heading back home.